Transfer your VHS, S-VHS, VHS-C and Sony 8MM Tapes to digital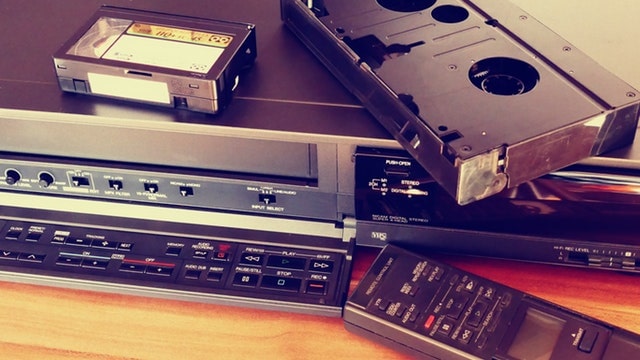 Double Data can convert your VHS, S-VHS, VHS-C, Sony 8MM, and MiniDV tapes to digital files and save them on DVDs. We will provide DVD or editable file for computer, special file types will cost extra.
Why convert your video tapes to Digital?
Old movies on tape, like old memories, will fade away. Don't let your priceless family heirlooms deteriorate! Preserve them now! Our video tape to DVD transfer service creates an exact copy of your videotape and stores it digitally as a DVD video disc.
Why are DVDs better than Video Tape?
When compared to DVDs, tapes are a pain. Videocassette tapes break and get stuck in the recording unit more often, take up more shelf space, and offer lower video and sound quality.
A typical DVD-R disc should keep its contents safe for 50-100 years. A typical VHS recording can last as long as 20 years, but image and sound quality degradation becomes noticeable in as little as 5 years. …That's if you have not stored them beside your television or loud speakers! This is especially true when the recording was done using the LP (4-hour) or EP (6-hour) setting. If you want your wedding video to last until the grandkids can watch it, there's really no choice.
Video collections often contain treasures that are well past their use-by date, as video tapes are not suitable for the long-term storage and retrieval of film material. Every time they are used their life expectancy declines.
Even a single play mechanically reduces the picture quality, virtually unnoticeably – but over many cycles the degradation becomes obvious. The consequences range from loss of color and sound to physical damage to the tape itself. Even the slightest chance of not being able to view your videos in the long term is obviously unattractive.
By having your video tapes digitized you can stop the degradation and preserve those memories digitally on DVD. DVDs won't suffer from degradation via physical contact during playback, unlike mechanically read video tapes. This means that, even after repeated playback, the picture quality on DVD copies remains as good as the original.
When making copies of DVDs — the original and its digital copy are identical. Each generation is as good as the first. And DVDs have further advantages: they're easier to handle and take up less space than VHS tapes.
And when DVDs become obsolete down the road, you will be able to move the digital data from the DVD to the media of the future without quality loss.
We also offer editing services at our standard rate of $95.00 per hour for editing.
100% Guarantee 
We guarantee our film transfer and DVD services to be the highest quality available. Your money will be refunded if you can show a higher quality product.
We have the tools to maintain the quality of your VHS tapes and to preserve your memories, let Double Data convert your VHS tapes.
1) Upload your files below. Make sure to enter all your contact information (Email, Name, Company, and Phone), and type out the project details. Once the form is complete, click the "UPLOAD" button to submit the service request form.
If you have a question click here to call or submit it below.
* Once your files are uploaded and the service request form is submitted, someone from our team will contact you directly about your project within 24-48 hours.